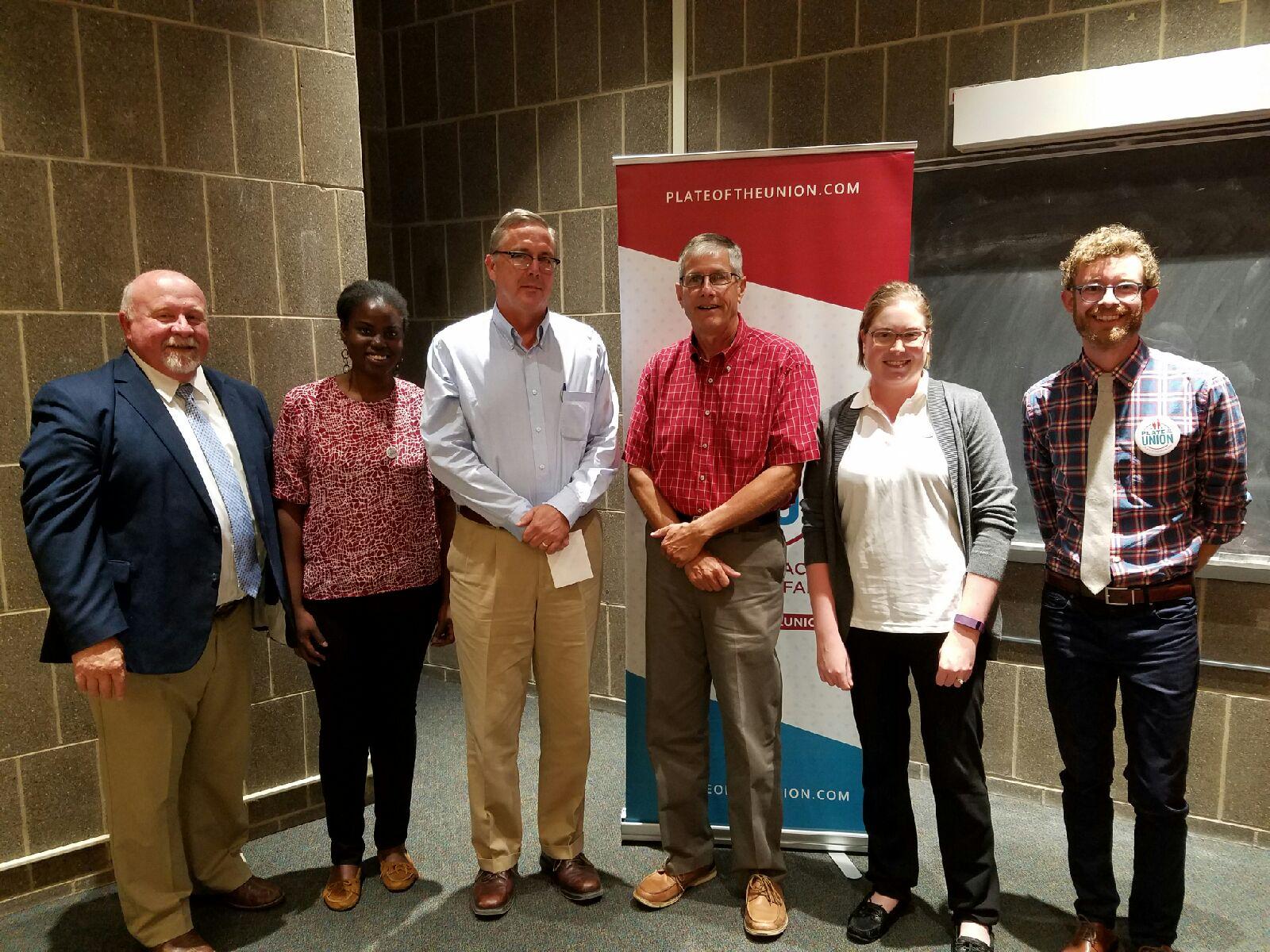 Building awareness and creating conversation for action
Written by Hanna Bates, Program Assistant at the Iowa Water Center.
This year, the Iowa State University Sustainable Agriculture Student Association (SASA) received a national grant from the Plate of the Union Campus Challenge. Part of this sponsorship included hosting a panel on water quality issues. The panel included:
SASA invited me to sit alongside the experts above to lend my perspective on the challenges we face in water-related issues. As a Sustainable Agriculture program alumni, it was a privilege to be part of the discussion. I was also excited to share what I have learned so far in my research and work in water. As we all know, water quality and quantity issues have come to a forefront in Iowa. Because of this, I believe it is important for the public to come together to discuss the challenges we have and potential solutions.
Although the panelists work in water, we each represented a different corner of the topic. These areas included data collection, education and outreach, policy, and practice implementation. This made for an interesting discussion that ranged from policy to practices out in the Iowa landscape.
We each had time to outline our views on water in Iowa. I proposed that we have developed quite the toolbox of resources for the public to use to address water quality issues in Iowa. I'd even say we have a toolshed of resources due to the proactive approach that the State of Iowa has taken to develop three strategies:
Not only do we have Iowa resources available, but also federally-funded resources available. There are financial and technical resources available for conservation practice implementation through the Natural Resources Conservation Service (NRCS), as well as research and outreach support through entities such as the Iowa Water Center (that's us!).
The problem I identified is that there is a struggle to get these tools out to the public in a meaningful and practical way. There is evidence to suggest having a peer network and educational opportunities can have a positive impact on conservation efforts. I proposed that we need more "bridge builders," or individuals to act as the go-between for research and the public. This is so that we can provide information and the tools that the public can use. Not only this, but these tools can improve through building the relationship between these two groups. By engaging people in the process of developing better tools and generating more information, we can create a more powerful outcome.
The audience had a strong focus on the farmer's and policymaker's role as deciders in water management. They challenged our current financial programs and the subsidy system. This criticism was in regards to how these programs can create a mono culture agriculture system. A system that lacks biodiversity can negatively impact water quality and soil health. A proposed solution to this is to promote crop diversity through the use of cover crops, small grains, and perennials on farm ground.
Land use choices is not just an issue that farmers must contend with. Adding biodiversity is also an issue of consumer demand for certain agriculture products. If farmers do not have a market for a crop, it is difficult for them to justify growing it because they need to derive a livable income. A resounding solution from this discussion was that we all must work together to be able to proactively address water-related issues.
I found the discussion last week to be inspiring. As a room, we questioned each other's viewpoints and looked at water from many angles. We examined the tools that we have now and how we could go forward to make a difference together. Regardless of who you are, we can all learn from each other and take action in protecting our water resources.