Post written by Melissa Miller, Associate Director for the Iowa Water Center
Today, at 10 a.m., I was supposed to greet 500+ of my closest friends and colleagues and say (with gusto), "Welcome to the 2020 Iowa Water Conference!"
If you've been our conference (or any conference, really), you know how that speech goes.
I would have thanked the planning committee for their tireless efforts in shaping the very best conference agenda for this year, a program that resonated with the theme "Bringing our water vision into focus."
I would have thanked the sponsors and exhibitors for their generous support year after year.
I would have thanked you for coming and urged you to attend sessions outside of your comfort zone.
I would have introduced you to our amazing new conference logo and told you everything it stands for.
But, instead, at 10 a.m. on Wednesday, April 8, 2020, I'm making a mid-morning snack for my elementary-aged daughters before we go on a walk to the "creek" (okay, it's a drainage ditch). I haven't been to Ames in almost a month, and I don't know when I'll go again.
———————————–
When we announced the cancellation, we had many people reach out to us and express their condolences for the months of lost work and preparation. This missed opportunity to connect and grow side by side is suddenly a common tragedy of this strange new era. We lament with those who planned to present, with the students who planned to compete in the poster contest, for the morning sticky buns we won't get to eat (I know at least a couple of you were already lamenting the loss of "Scheman Lasagna" from years past, for some reason).
But remember: the Iowa Water Conference is just two days. The work that went into it is not lost. We still had a diverse mix of organizations collaborating to conduct peer reviews of the latest water work in Iowa. We still had hours of introspection and discussion to identify the most pressing topics in water resource management in Iowa. We still built new relationships and cultivated old ones with Iowa's hardworking water professionals and scientists. Building the Iowa Water Conference takes the entire year – for all of us. The two days is just the celebration.
—————————
In my welcome speech, there is one more thing I would have done this year. I would have challenged every single one of you to consider two questions as you listened to each presentation:
Who cares?
So what?
(Shout out to Molly Hanson, co-founder of Women for Water and conservation and community outreach specialist for RDG Planning & Design. Molly came up with this idea after we discussed my theory on cultivating and stewarding a community of "Water People.")
This challenge still applies to the work you do, day in and day out. Ask yourself, who cares, and so what? Answering those questions both affirms the importance of the role you play and brings you closer to understanding how to reach the communities in which you're working.
My final comment of the Welcome Speech That Will Never Be Given: we can and should still work to build a shared vision for Iowa's water future. What do YOU want for Iowa's future? Compare your answers with others' answers. Where are we the same? Where and why are we different? What are our overarching goals that benefit the most people in an equitable and just way? What can you do in your work to move us toward those goals? And, perhaps most importantly, what will it look like when we get there?
Have an answer to any of these questions? Join in the conversation on Twitter with the hashtag #IowaWater2020. Jump in with real-time dialogue in our Water Scholars Book Club on Facebook. Send us an email.
Talk to you soon.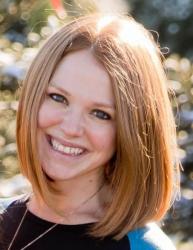 Melissa Miller is the associate director of the Iowa Water Center. She holds a BS in Kinesiology with an emphasis in Community and Public Health and MS degree in Community Development with an emphasis in Natural Resource Management, both from Iowa State University.