Iowa Learning Farms Field Day August 29 Near Clarinda
August 29 @ 5:00 pm

-

7:00 pm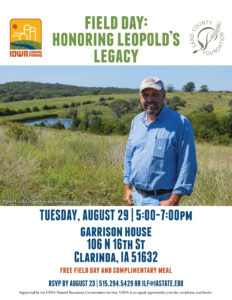 Join Iowa Learning Farms and Sand County Foundation Thursday, August 29 from 5:00-7:00 p.m. at the Garrison House in Clarinda for a sunset walk with host Seth Watkins, a 2023 Leopold Conservation Award Recipient. The free event is open to farmers and landowners and includes a complimentary meal.
The field day aims to assist farmers and landowners with identifying best management practices for their land, including the establishment and maintenance of perennial vegetation to improve farm sustainability and profitability. Perennial vegetation areas on the farm offer many benefits including reducing soil erosion from sensitive areas, building soil health, improving wildlife and pollinator habitat and providing to the beautiful landscape.
Seth Watkins has been working to bring his vision for farming to life since the 1990s when he inherited and purchased land that would become Pinhook Farm. He understands sustainability is not possible without profitability and has successfully demonstrated that the use of no-till and rotationally grazing livestock can create a balance between caring for the land and supporting his family. With 100 acres enrolled in CRP, including restored prairies and windbreaks, shallow water habitats, and riparian buffers, Seth has seen influx of songbirds, Monarch butterflies and beneficial pollinators.
The field day will also feature Adam Janke, Iowa State University Associate Professor and Extension Wildlife Specialist, and Joe McGovern, Iowa Natural Heritage Foundation President. The field day will conclude with Seth leading a sunset tour of the farm and prairie.
The field day will be held at the Garrison House located at 106 N 16th St, Clarinda, IA 51632. The event is free and open to farmers and landowners, though reservations are required to ensure adequate space and food. For reasonable accommodations and to RSVP please contact Liz Ripley at 515-294-5429 or ilf@iastate.edu. Attendees will be entered in a drawing for ISU Prairie Strips honey.