Establishing and Managing Perennial Vegetation and CRP Field Day to be Held near Albion August 24
August 24 @ 10:30 am

-

12:00 pm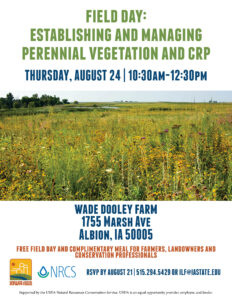 Iowa Learning Farms, Marshall County Soil and Water Conservation District, and USDA-Natural Resource Conservation Service (NRCS), will host a perennial vegetation and CRP field day Thursday, August 24 from 10:30 a.m. – 12:30 p.m. at Wade Dooley's farm near Albion. The free event is open to farmers and landowners and includes a complimentary meal.
This field day aims to assist farmers and landowners with establishing and maintaining perennial vegetation, including Conservation Reserve Program (CRP) areas. These areas offer many benefits including reducing soil erosion from sensitive areas, build soil health, improve wildlife and pollinator habitat and provide beauty to the landscape.
Sixth generation Marshall County farmer and host, Wade Dooley, will share how he has improved his farm's profitability and resiliency through the incorporation of perennial vegetation on his acres adjacent to the river. Attendees will have the opportunity to view the equipment used for establishing perennial vegetation including a Great Plains drop seeder, a native seed drill, a small cultipacker and a traditional seed drill. Jason Gritsch, Iowa DNR Private Lands Biologist, will also discuss tips for successful establishment and management to ensure diversity and compliance with CRP programs. They will also highlight ways to enhance existing perennial vegetation to improve diversity and function.
The field day will be held at Wade Dooley's farm located at 1755 Marsh Ave, Albion, IA 50005 and will be held rain or shine. The farm is located on the west road right at corner and field day signs will mark the driveway to enter. Insect repellent will be provided and attendees are encouraged to wear long pants and closed toe shoes.
The event is free and open to farmers and landowners, though we require reservations to ensure adequate space and food. For reasonable accommodations and to RSVP please contact Liz Ripley at 515-294-5429 or ilf@iastate.edu. Attendees will be entered in a drawing for ISU Prairie Strips honey.