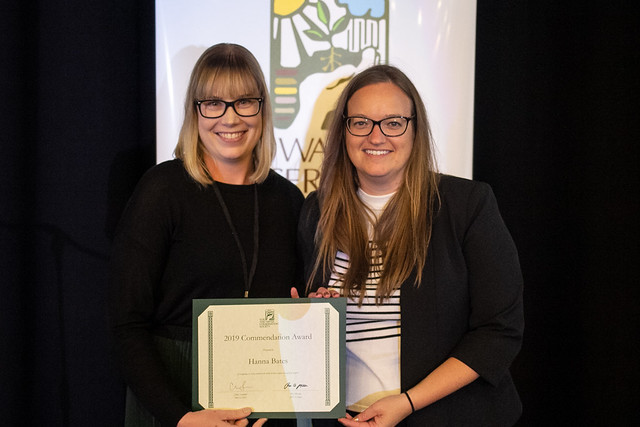 During the 74th Soil and Water Conservation Society International Annual Conference in July, Program Coordinator Hanna Bates was awarded a Commendation Award for work contributed to the Iowa Chapter.
As stated in the Conference program:
Hanna Bates is an essential leader in the Iowa Chapter. She recognized a widespread, national demand on food banks and soup kitchens during the federal government shutdown. Using her exceptional leadership skills to address this need, Bates spearheaded an effort by the Iowa Chapter to provide social events in each of the Chapter's five regions during the spring of 2019 to help respond to local food pantry needs. Bates's efforts resulted in the gathering of at least 40 people at the first three events, and over 300 pounds of food donated to local food pantries. Ultimately, this initiative resulted in the registration of at least four new Iowa SWCS individual members and forged relationships between the Chapter and five other conservation-oriented organizations, as well as five food pantries across the state. Bates is serving her first term as a chapter officer, acting as the president elect. She also serves in a Society level capacity on the Conference Planning Committee, where she assists in reviewing presentation submissions. For these and other reasons, Hanna Bates is most deserving of the 2019 SWCS Commendation Award.