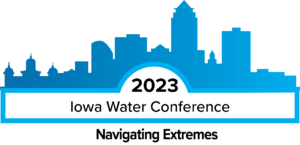 The 17th annual Iowa Water Conference will be held on September 19-20, 2023, at the Meadows Events and Conference Center at Prairie Meadows in Altoona, Iowa. This year, the conference theme is "Navigating the Extremes." Climate change has been disrupting water supplies and impacting the environment, socioeconomic structures, and ecosystems, such as forests, soils, lakes, cities, and communities.
The Iowa Water Conference is a great opportunity for water, climate, agriculture, and natural resource professionals to come together, brainstorm and collaborate, exchange ideas, and learn from each other.
If you would like to help sponsor this event, please go to the Iowa Water Conference Sponsor Page for more information and registration links.
To sign-up as a participant, please go to the Iowa Water Conference Homepage where you will find links to register and hotel information.
Don't miss our Pre-Conference Tour on September 18th from 1:00-6:00 p.m.
Early Registration rates are available until August 23, 2023