The Iowa Water Center started a monthly book club, called Iowa Water Scholars Book Club, where members of the water community can read novels surrounding around current water quality issues, as well as have Zoom discussions regarding these novels with an "expert of choice" on the topic of the month.
May was the first month that the Iowa Water Scholars Book Club was put into action, kicking off with the novel "The Death and Life of the Great Lakes" by Dan Egan.
"The Death and Life of the Great Lakes" is a novel that discusses the past, present and future of the Great Lakes, the dangers they face and the ways people can take action to repair and protect them.
We turned to Jeff Kopaska, a biometrician for the Iowa Department of Natural Resources (DNR), to compare and contrast the events and management techniques of aquatic invasive species that Iowa has experienced with events discussed in the novel. Kopaska's areas of expertise involve fisheries, data and analysis of fisheries, water quality and applications of technology to natural resource challenges.
A popular issue that Iowa is currently dealing with in regards to invasive species is invasive carp. They first originated in the Mississippi River and then made their way up into Iowa's interior rivers. There are a few different types of carp, including bighead, silver and hybrid, but all carp try to relocate quickly once in water. Bighead carp seemed to pioneer this invasion, but silver carp are more commonly found. In the past, invasive carp have found their way in Iowa lakes through Missouri drainage systems as well. This caused East and West Okoboji Lakes to have several carps.
Another common invasive species that Iowa encounters are mussels. The two types of invasive mussels are zebra and quagga; Iowa mainly has issues with zebra mussels whereas "The Death and Life of the Great Lakes" frequently discusses issues with quagga mussels. As mentioned in the novel, quagga mussels have a much deeper depth range than zebra mussels. Iowa does not have many lakes that are deep enough for quagga mussels to become a major issue, so zebra and quagga mussels are typically treated in the same way instead of separately handled.
There are a few different methods of tracking invasive species. One way to track zebra and quagga mussels is by going through veliger sampling, which consists of testing a water sample through a filter, showing the possible toxicities in the water. Another way to keep track of intruders is to be checking hard surfaces. When docks are pulled out every fall, they are inspected for any sign of an invasion.
In addition to invasive creatures, Iowa also deals with invasive vegetation. Each summer, interns travel around Iowa and take surveys of lake water to view the aquatic vegetation, what types of species there are and if any of them need extra management.
In "The Death and Life of the Great Lakes," past experiences of managing aquatic invasive species in the Great Lakes are explained, allowing readers to understand the history of this issue and the progress that has been made. Kopaska then shared some of Iowa's past experiences with invasive vegetation and grass carp.
In the early 1970's, there was some extra research done Red Haw Lake, near Chariton, Iowa. It was decided that this lake would be best to use as a "guinea pig" of sorts to test the lifespan of grass carp. Staff placed grass carp in that system ("Probably too many," Kopaska added) with the expectation that the vegetation would only survive around 10-20 years. In 2004, there were renovations made at Red Haw Lake, and there was still a large number of grass carp there, over 30 years later. They have since stopped stocking grass carp and have turned to chemical and mechanical management.
The use of chemical and mechanical means to manage vegetation has come with some controversy. The public does not seem to be fond of adding chemicals to water to solve invasive species issues. The disagreement with chemical use may lead to the resurgence of grass carp to control invasive vegetation. When asked what dealing with the management of aquatic systems is like, Kopaska replied,
"It's kind of like managing a forest," Kopaska said, "except you can't see any of the trees, and they're all moving around."
With as many management techniques there are, there is a lot of information collected with each situation to ensure that the best decision is made for that specific body of water. Some management techniques are more of a resource or economic investment, so it is important to feel confident in the management process chosen.
Kopaska not only shared his knowledge on invasive species in Iowa with us, but also how his passion for fisheries started. Fishing has always been one of Kopaska's favorite things to do since he was a child, even though he mentioned that he doesn't get much time to fish recreationally as much as he would like. He grew up fishing in areas around his house, and this deep rooted love for the sport led him to his career field.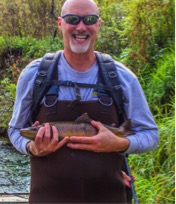 At the Iowa DNR, Kopaska serves as their fisheries data steward, oversees data management activities and how that data is distributed to the public and controls a survey that inquires what the public is thinking about current DNR activities and where there is room for improvements. Along with working for the DNR, Kopaska is also the president of the North Central Division of the American Fisheries Society and cohosts a monthly podcast on KXnO called The Fishing Report.
If you would like to watch the full video discussion with Jeff Kopaska, here is the link.
If you are interested in reading "The Death and Life of the Great Lakes" by Dan Egan, here is a link to find an independent, Iowa bookstore that carries it!